Regular price
$0.00 USD
Sale price
$19.00 USD
Unit price
per
Sale
Sold out
We're proud to offer free overnight shipping for all orders delivered within New Zealand.
MEBO wound repair is especially formulated to aid the natural healing of skin wounds including ulcers (bedsores, diabetic, chronic), cracked nipples, shingles, fissures, chilblains, impetigo (school sores), haemorrhoids, cracked/chafed/grazed skin, and donor-site repair.
How to use MEBO wound repair
Apply up to 1 mm thickness of ointment over the affected area. Every 4 to 6 hours, gently remove any residual ointment and wound by-products, then reapply fresh ointment. DO NOT use antiseptic, saline, or water to clean the affected area. Take care to avoid irritating the damaged skin.
More serious wounds: 
To further protect the affected area, a dressing can be applied. Keep the wound moist with MEBO wound repair at all times. The frequency of dressing changes can be reduced in accordance with improvement of the wound but should be maintained at least daily depending on the amount of exudate and appearance of the wound.
Rectal area:
Apply to affected area morning and evening.
After surgery:
Apply to promote wound healing after sutures have been removed.
Ingredients:
Rhizoma Coptidis, Radix Scutellariae, Cortex Phellodendri, Sesame Oil, Beeswax.
Minimising scarring:
MEBO wound repair helps to minimise scarring. However, if scarring occurs, use MEBO skin restore after the wound has healed.
Safe with pregnancy and with young children. Care is recommended with patients sensitive to sesame and beeswax.
Shelf Life: 3 years, expiry date on pack.
Share
Ingredients

All Mebo products are uniquely crafted from plant and natural extracts.
How to use

The name of the ointment indicates two important protocols to be adopted when using this product to heal a wide range of skin wounds.

Firstly, during the healing stage the wound must remain moist with the ointment.

Secondly, with reference to 'Exposed', it is not necessary to cover the wound site with a secondary dressing. MEBO includes ingredients that provide a barrier function (sesame oil and beeswax) and have antimicrobial effects. Avoid contact with clothing or bedding as staining may result.

However, a secondary dressing may be appropriate to further protect the wound site if contact with clothing or bedding is an issue. 
Shipping

Get free shipping & handling on any orders in New Zealand! No minimum purchase value. International shipping fees are passed on at cost.
Return policy

Access Health Care Ltd has the right to refuse the sale of any product or service where we deem appropriate.

Every effort will be made to supply you with your order, however, we do not accept liability should we decline an order or fail to supply due to unforeseen circumstances.

Access Health Care Ltd accepts no liability for consequential loss. Liability is limited to the replacement cost of the goods.
View full details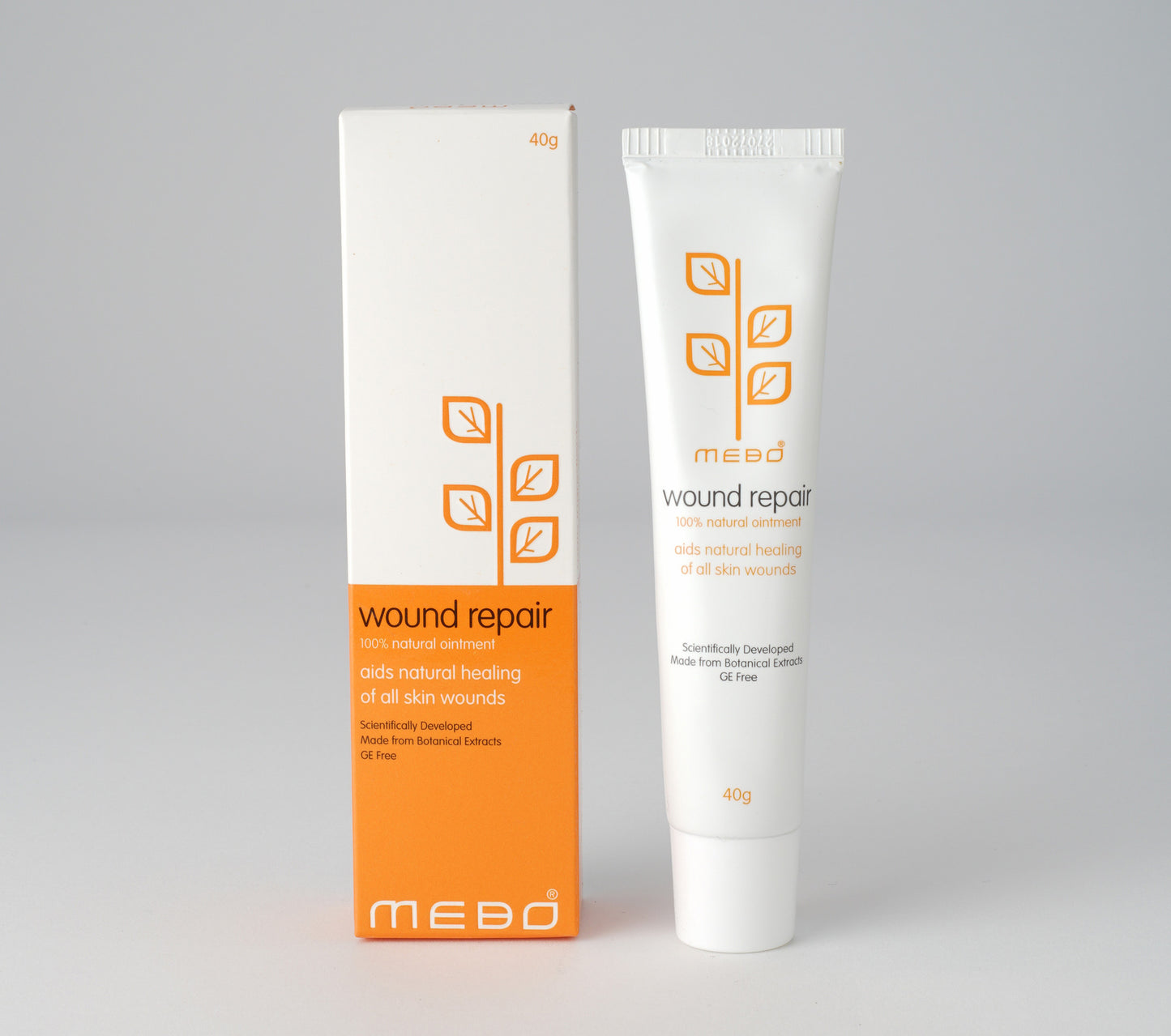 Excellent
I've used this twice now and it's fantastic. First time was a severe burn on my arm which has no scar, second time was a cut on my thumb from a stick blender. My thumb is almost healed and as soon as I started using the cream it stopped hurting 😊
MEBO Wound Repair
I have been under the care of district health nurses for two years while they try to heal open wounds on both legs. They have tried every solution in their repertoire including compression bandaging to counteract fluid retention and are getting nowhere fast. At my wits' end, I even tried applying manuka honey until MEBO wound repair was recommended to me and the improvements were immediate. The MEBO wound repair immediately quietens things down and suppresses the constant stinging I was tolerating all day every day. I have found it far and away the best treatment for lessening pain and speeding up the healing process. See, there is hope and I happen to like the smell of sesame oil too!
Miracle at your fingertips
I was extremely impressed on how well this worked overnight to heal wounds. Would highly recommend and will be ordering in the near future. Thank you!
Very oily and smells like sesame oil
Very oily and smells like sesame oil
Mebo
At Access Health Care Ltd our commitment is to bring you world-leading natural health products developed by the MEBO group of companies.
MEBO is a specialist global group, with its international head office based in Los Angeles, California, U.S.A. MEBO holds more than 20 patents in the US, Canada, Europe, Japan and China for cell and organ regeneration.