Regular price
$0.00 USD
Sale price
$19.00 USD
Unit price
per
Sale
Sold out
We're proud to offer free overnight shipping for all orders delivered within New Zealand.
MEBO burn repair is especially formulated to aid the natural healing of burn wounds including, sunburn, chemical, electrical, radiotherapy, scalds, nappy rash, sweat rash, chafing, friction, chemical peel, epilaser, dermabrasion, and carbon dioxide laser therapy.
How to use MEBO burn repair
Minor scalding and burns, including sunburn:
Apply up to 1 mm thickness of ointment over the burn as quickly as possible. Every 4 to 6 hours gently remove any residual ointment and reapply. Take care to avoid irritating the damaged skin.
More serious burns:
Apply up to 1 mm thickness of ointment over the affected area. Carefully cut any blisters and discharge fluid. DO NOT remove blistered skin at this early stage. Every 4 to 6 hours gently remove any residual ointment and wound by-product and reapply. DO NOT use antiseptic, saline, or water to clean the affected area. Healing usually takes 6 to 7 days. To further protect the affected area, a dressing can be applied. Keep the wound moist with MEBO burn repair at all times.
The frequency of dressing changes can be reduced in accordance with improvement of the wound but should be maintained at least daily depending on the amount of exudate and appearance of the wound.
Ingredients:
Rhizoma Coptidis, Radix Scutellariae, Cortex Phellodendri, Sesame Oil, Beeswax.
Minimising scarring:

MEBO burn repair helps to minimise scarring. If scarring occurs, use MEBO skin restore after the wound has healed. 
Safe with pregnancy and with young children. Care is recommended with patients sensitive to sesame and beeswax.
Shelf life: 3 years, expiry date on pack.
Share
Ingredients

All Mebo products are uniquely crafted from plant and natural extracts.
How to use

The name of the ointment indicates two important protocols to be adopted when using this product to heal a wide range of skin wounds.

Firstly, during the healing stage the wound must remain moist with the ointment.

Secondly, with reference to 'Exposed', it is not necessary to cover the wound site with a secondary dressing. MEBO includes ingredients that provide a barrier function (sesame oil and beeswax) and have antimicrobial effects. Avoid contact with clothing or bedding as staining may result.

However, a secondary dressing may be appropriate to further protect the wound site if contact with clothing or bedding is an issue. 
Shipping

Get free shipping & handling on any orders in New Zealand! No minimum purchase value. International shipping fees are passed on at cost.
Return policy

Access Health Care Ltd has the right to refuse the sale of any product or service where we deem appropriate.

Every effort will be made to supply you with your order, however, we do not accept liability should we decline an order or fail to supply due to unforeseen circumstances.

Access Health Care Ltd accepts no liability for consequential loss. Liability is limited to the replacement cost of the goods.
View full details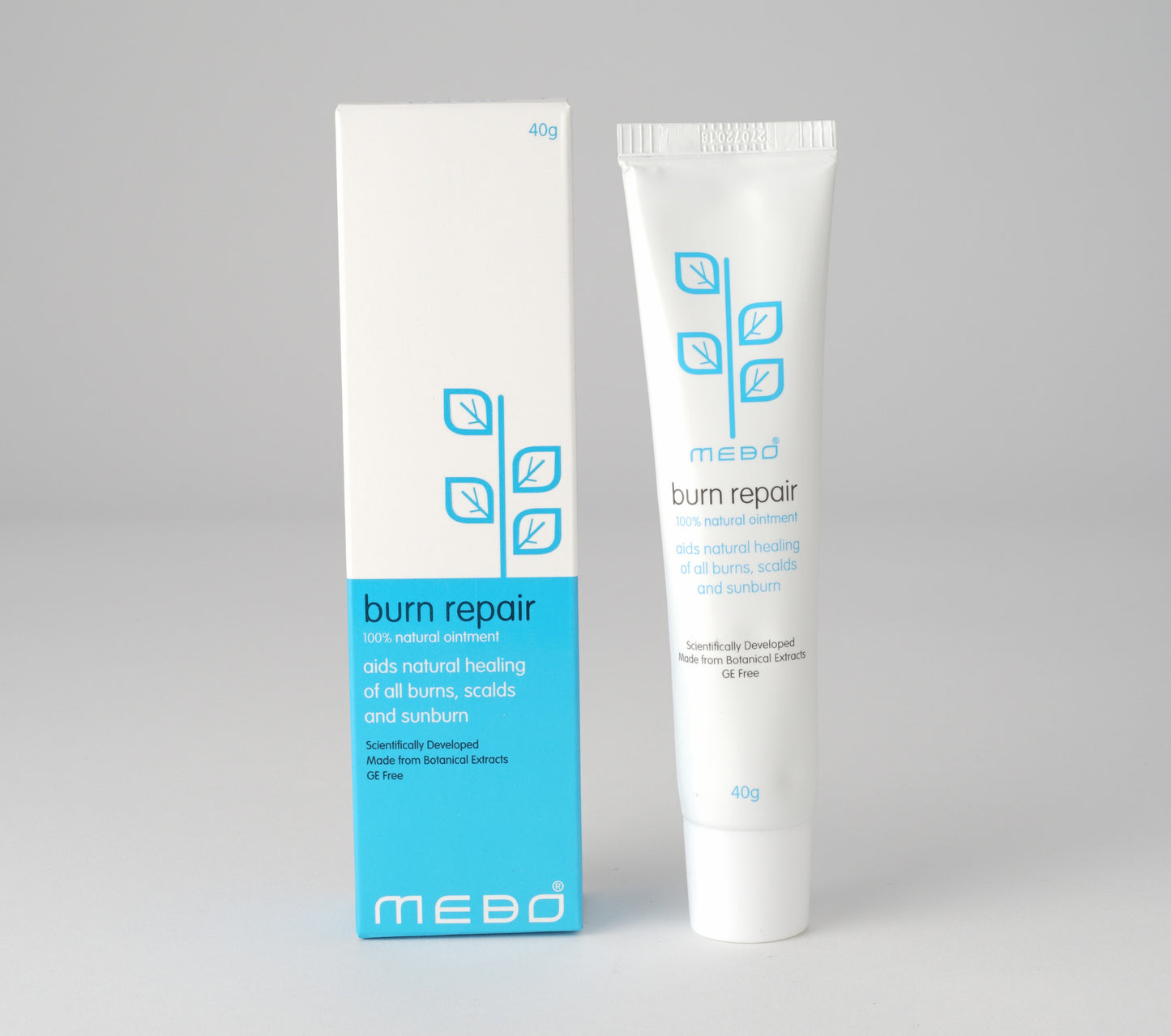 Great
Burn looks really good now. Highly recommend
Restore revive. Refresh
Thats What the skin restore does. Sun damage, burns, or even just offer skin like myself. First time using this mebo product. Mebo product Never disapoints. Love this stuff
Best burn cream ever!!
Honestly I'm such a shocker with unintentional sunburn and I've tried literally everything on the market on my sunburn until I tried this!! It's truly the best and I've been recommending it to everyone it immediately soothes and heals
Great!
Bought this for my son after he poured some hot tea over his leg. Nice thick cream, kept his skin moist and soft, did not take long for his burn to heal, actually all dead skin and crust were gone within a week! It smells a bit strange but not bad. Will definitely order this again.
Magic Healing Cream
This stuff is magic!! Have used it on burns, friction burns and skin grazes and it aids healing like nothing else we've used! Love that it's all natural as well.
Mebo
At Access Health Care Ltd our commitment is to bring you world-leading natural health products developed by the MEBO group of companies.
MEBO is a specialist global group, with its international head office based in Los Angeles, California, U.S.A. MEBO holds more than 20 patents in the US, Canada, Europe, Japan and China for cell and organ regeneration.