Regular price
$0.00 USD
Sale price
$12.00 USD
Unit price
per
Sale
Sold out
We're proud to offer free overnight shipping for all orders delivered within New Zealand.
MEBO anti-itch is especially formulated to soothe irritated skin from insect bites, chicken pox, eczema, dermatitis, cracked and chafed skin, providing a regenerative environment to help the affected skin to recover.
How to use MEBO anti itch
Apply directly to the affected area. Repeat when necessary and avoid further scratching.
Proven attributes of MEBO anti itch
Repairs and protects nerve endings in the skin. Promotes epithelial repair through stem cell regeneration. Minimises scarring. Provides moisture and nourishment for the skin.
Ingredients:
Opuntia Dillenii juice, Sesame Oil, Guar Gum, Beeswax, Stearic Acid, Glycerin, Glyceryl Stearate, Triethanolamine, Phenoxyethanol.   
Safe with pregnancy and with young children. Care is recommended for patients sensitive to sesame and beeswax.
Shelf life: 2 years, expiry on pack.
Share
Ingredients

All Mebo products are uniquely crafted from plant and natural extracts.
How to use

The name of the ointment indicates two important protocols to be adopted when using this product to heal a wide range of skin wounds.

Firstly, during the healing stage the wound must remain moist with the ointment.

Secondly, with reference to 'Exposed', it is not necessary to cover the wound site with a secondary dressing. MEBO includes ingredients that provide a barrier function (sesame oil and beeswax) and have antimicrobial effects. Avoid contact with clothing or bedding as staining may result.

However, a secondary dressing may be appropriate to further protect the wound site if contact with clothing or bedding is an issue. 
Shipping

Get free shipping & handling on any orders in New Zealand! No minimum purchase value. International shipping fees are passed on at cost.
Return policy

Access Health Care Ltd has the right to refuse the sale of any product or service where we deem appropriate.

Every effort will be made to supply you with your order, however, we do not accept liability should we decline an order or fail to supply due to unforeseen circumstances.

Access Health Care Ltd accepts no liability for consequential loss. Liability is limited to the replacement cost of the goods.
View full details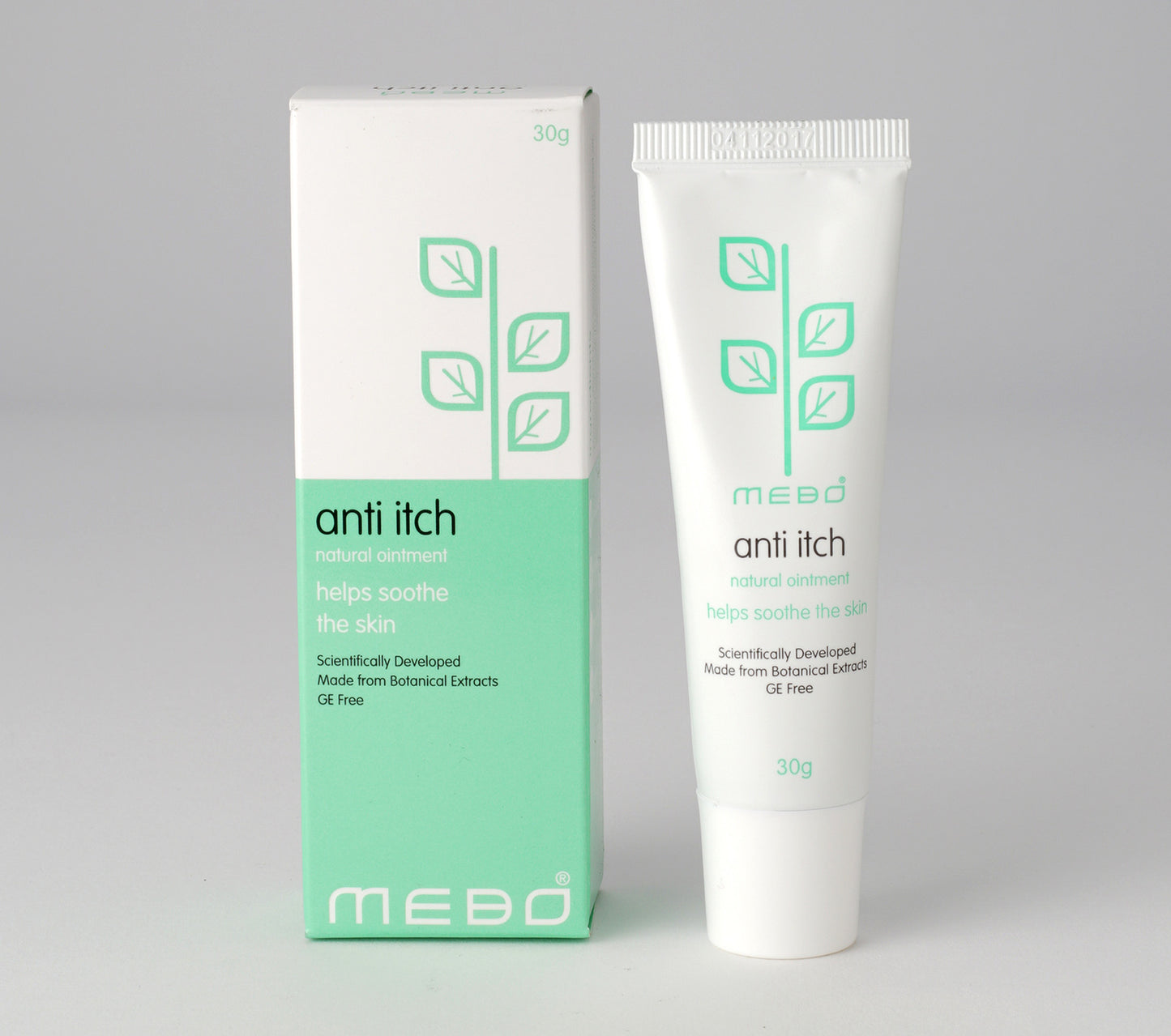 Amazing product, have eczema on hands and fingers.. I've tried a number of anti itch creams, this is by far the best
Mebo anti itch
There's nothing on the market as good and effective as Mebo anti itch cream. Having tried many different creams this is the one I can rely on for relieving the intense itching I get on the palms of my hands and in between my fingers. I always make sure I have a spare tube. Thank goodness I found this product.
Best itch cream!
I got to know MEBO when my friend gave me the Burn Repair for my massive painful blister on my toes that healed immediately! Since then I've been keeping my eye on this brand and delighted to find a few other goodies made of natural ingredients. My mum has been having itchy underarms for some reason so I got this for her, which she is happy with. Unlike WOUND/ BURN REPAIR/ SKIN RESTORE ointments, this one does not smell like sesame, and not oily/ messy. It works wonderfully for her. I tried it on an insect bite myself and it stops the itch immediately and being itchy again. Absolutely great product!
Mebo
At Access Health Care Ltd our commitment is to bring you world-leading natural health products developed by the MEBO group of companies.
MEBO is a specialist global group, with its international head office based in Los Angeles, California, U.S.A. MEBO holds more than 20 patents in the US, Canada, Europe, Japan and China for cell and organ regeneration.